Dubai is an Islamic nation, and the religion is strict about clothing. That's why visitors traveling to Dubai always have a question in mind "what is the dress code in Dubai?" Luckily, Dubai is not that strict with clothing for men and women in most places. However, appropriate clothing is a must in mosques or other traditional locations.
It's always good to learn about the dress code of the country you visit because it helps show the necessary respect to the hosts. This article will explain everything about the dress code in Dubai at different places.
Basics of dressing in Dubai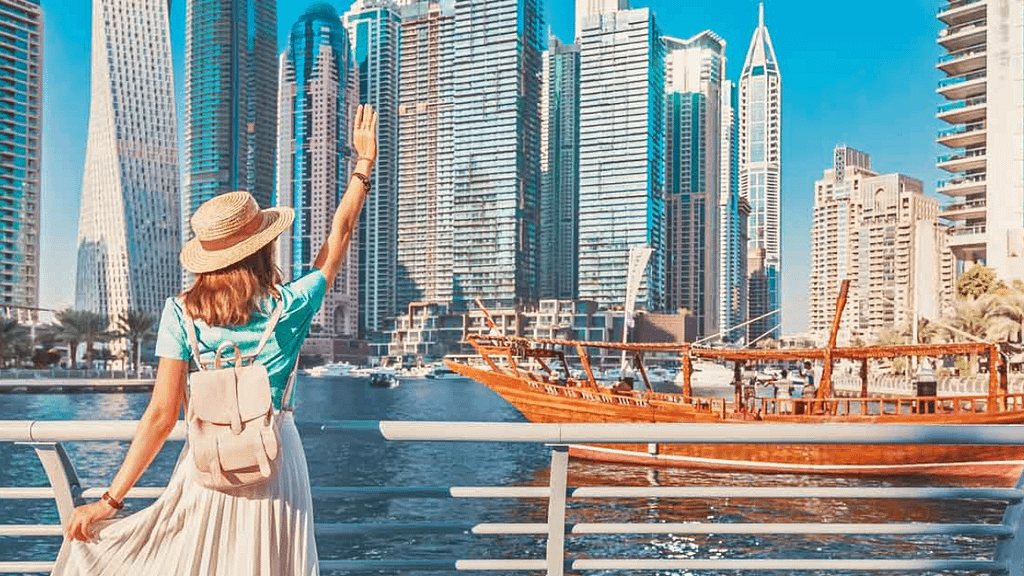 As mentioned, the national religion of Dubai is Islam, so the city expects people to dress in modest clothing. Dubai Government specifies dressing guidelines on the website: "visitors are expected to dress modestly in public places." Visitors must remember some essential points while packing their bags for Dubai.
Nudity is strictly prohibited, and your clothes must not be too revealing.
Your clothes must not reveal parts of your body and should not include offensive messages or slogans.
Extremely short clothes and swimwear are not allowed in public places, but you can wear them at beaches, waterparks, swimming pools, etc.
Men and Women are expected to dress appropriately when visiting mosques. Females must use a head covering or abayas; mosques in Dubai always keep a stock of them.
Your clothes should always cover your arms, shoulders and legs.
Dress code in Dubai for public places
Tourists mostly remain in public places, like Malls, Hotels, Restaurants, Parks, etc., and these places request travelers to dress modestly. They expect you to wear clothes that aren't revealing.
Females can wear shorts that till knee-length or slightly above the knee. Make sure they are too short. Or you can wear loose clothing, which is most comfortable in hot weather and quickly covers your body.
In Dubai, you will find that most people in public places don't fit this description. Still, no one will be deemed to be bothered. So, it's not that strict!
Dress code in Dubai for Swimming pools, beaches, parks
No nudity is the only rule you must follow when visiting these places. For beachwear, bikinis, shorts, and full Islamic suits, everything is allowed.
Your clothing shouldn't reveal private parts of your body. Rest everything is acceptable.
Dress code in Dubai for traditional areas and Mosques
Conventional parts of Dubai include the old markets like Spice Souk and Gold Souk; there, you will find locals and Muslim majority people mixed with some tourists from the west and other countries.
There are no strict dress regulations at these places, but it would be helpful if you dressed more conservatively and matched the locals. This way, you can move quickly without many eyes on you.
When you plan your travel to the rural parts of the country or Mosques, make sure not to wear sleeveless blouses or shorts. Your clothes must cover your arms and legs covered, strictly for both men and women. Women must cover their hair inside the mosque.
Usually, mosques that allow non-Muslims usually keep a stock of appropriate clothing. So, if you suddenly plan to visit the place, you won't face any issues.
Is Dubai strict about the dress code?
Until now, you must have understood that Dubai is pretty lenient about clothing. You can wear clothes of your choice, but it would be great to select a suitable outfit depending on your visit. Of course, you are not restricted to a particular type of clothing, but it's advisable to abide by the local traditions and dress code. We recommend sticking to clothing that covers your knees and shoulders.
There are no restrictions to wearing specific clothing in your hotel room or residence. But when you visit malls, you will find sign boards requesting people to dress modestly.
Dubai is a tourist city and home to multiple nationalities. They aren't very strict about specific Islamic clothing, but they expect you to follow the basics.
Faqs
Here are some commonly asked questions about the dress code in Dubai. If you don't find your question listed below, please comment.
1. What should females wear in Dubai?
Females are allowed to wear clothing of their choice, but you must maintain decency depending upon the place of your visit. Like shorts are perfect on a beach, not too revealing clothes would be great in other public areas; cover your hair while visiting the mosque and wear clothes that cover your arms, shoulders, and legs when visiting a traditional market or a rural place.
2. Can I wear jeans or shorts in Dubai?
Yes, you can wear tight clothing, including jeans, shorts, leggings or any other. There is NO specific restriction to this clothing.
3. Does women have to cover their head all the time in Dubai?
No, it's not at all compulsory to cover the head all the time. However, please cover your head whenever visiting a Mosque. Mostly, Mosques keep a stock of head coverings for tourists, so you don't have to worry about that.
4. What should I wear during the desert safari in Dubai?
You must focus on sun protection while selecting clothes for a desert safari in Dubai. Loose clothing, capris pants, shorts or pants could be an ideal choice. Try to keep the maximum area of your body covered if you don't want it to get tanned or burned in the scorching heat of the desert.
Conclusion
Dressing in Dubai is not as strict as in other Islamic countries; they allow you to wear clothes of your choice, but at certain places, you must take care of basic etiquette to show respect to the locals, and you will feel more confident while exploring.
You can always check the updated guidelines on the Dubai government's website. The conditions can be a little strict during Ramadan, but for the rest of other days, it's pretty OK to wear clothes of your choice.