DoubleTree by Hilton Resort & Spa Marjan Island is thrilled to present an extraordinary all-inclusive staycation deal that will leave you in awe. Prepare for an unforgettable experience where every moment is filled with joy and excitement, all while indulging in the resort's stunning beachfront location.
Deluxe Room Upgrade: Elevate Your Stay from Ordinary to Extraordinary!
Bid farewell to the mundane and say hello to extraordinary luxury! As you check-in, DoubleTree by Hilton Resort & Spa Marjan Island automatically upgrades you to the next room category. Get ready to immerse yourself in spacious accommodations that provide the perfect setting for relaxation and rejuvenation.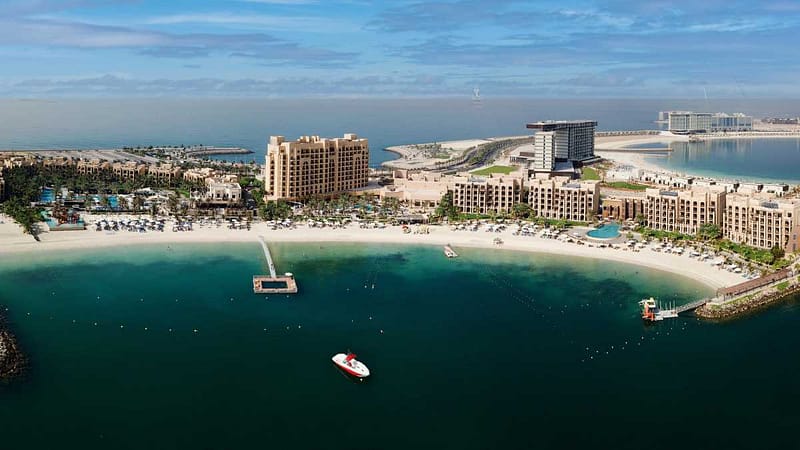 Dining Delights: Embark on a Culinary Adventure!
Prepare your taste buds for a tantalizing journey! With this exclusive offer, you gain access to not just one, but 14 exceptional on-site restaurants and bars. From delectable à la carte options to delightful snacks and everything in between, satisfy your cravings at any time of the day or night. And guess what? In-room dining is also included, ensuring you can enjoy your favorite treats even after the dining outlets close between 02:00 am and 06:00 am.
Cheers to Premium House Drinks: Quench Your Thirst with Unlimited Delights!
Raise your glass to endless refreshment! Whether you're lounging on the beach, enjoying a breathtaking sunset, or savoring a leisurely lunch, DoubleTree by Hilton Resort & Spa Marjan Island ensures that you're never without a refreshing drink. Say goodbye to parched throats as you indulge in unlimited premium house beverages. And don't worry, your mini bar will be restocked daily, so your favorite beverages are always at your fingertips.
Relaxation and Pampering: Your Well-being, Their Priority!
Your well-being takes center stage at DoubleTree by Hilton Resort & Spa Marjan Island. Enjoy a blissful late checkout at 2 pm, allowing you to extend your leisurely stay and make the most of the resort's incredible amenities. And for those seeking extra relaxation, treat yourself to a rejuvenating spa experience with an irresistible 20% discount. Pamper your body and soul with invigorating massages, revitalizing facials, and more.
Endless Fun for Everyone: Paradise Awaits!
DoubleTree by Hilton Resort & Spa Marjan Island is a haven for both adults and children. Immerse yourself in the joy of complimentary access to the resort's private beach, eight refreshing swimming pools, and a thrilling water park. Let the little ones have a blast at the kids club while you soak up the sun or join in the excitement. Adventure seekers can revel in a 20% discount on non-motorized water sports and 10% off motorized water sports, allowing you to dive into the crystal-clear waters and make a splash!
Summary of the Ultra All-Inclusive Staycation Offer: Unforgettable Memories Await!
Deluxe Room upgrade | All meals and drinks at 14 restaurants and bars | Unlimited premium house beverages | Complimentary In Room Dining (only available 2:00 am – 6:00 am) | Daily restocked mini bar | Late checkout at 2 pm | 20% off spa treatments | Complimentary access to the private beach, eight swimming pools, and water park | Complimentary kids club for children aged 4-12 | 20% off non-motorized water sports | 10% off motorized water sports
The Experience: Where Dreams Become Reality!
Picture this: You arrive at DoubleTree by Hilton Resort & Spa Marjan Island, where a warm smile and a friendly welcome greet you. As you check into your upgraded room, excitement builds for the adventures that await. Imagine basking in the sun on the private beach or taking a refreshing dip in the crystal-clear waters of the Arabian Gulf.
Indulge in culinary delights at the resort's numerous restaurants, relishing the diverse flavors on offer. Spend your days swimming, sunbathing, and exploring the water park, knowing that relaxation is just around the corner with a spa treatment or a soak in the hot tub.
Enjoy a leisurely dinner at one of the resort's restaurants as the day winds down, or satisfy your cravings with a snack from the fully stocked mini bar. Stay up late and make memories that will last a lifetime, whether it's watching a movie in your cozy room or dancing the night away at the vibrant nightclub.
Wake up to a scrumptious breakfast buffet and spend the day making the most of the resort's incredible amenities. When it's time to say goodbye, check out late in the afternoon, feeling completely rejuvenated and ready to take on the world once again.
Book Your All-Inclusive Staycation Today: An Escape Like No Other!
The Ultra All-Inclusive Staycation Offer by DoubleTree by Hilton Resort & Spa Marjan Island is the ultimate escape from the ordinary. Dive into luxury, relaxation, and endless fun, all while enjoying the convenience of having everything included. Don't miss out on this extraordinary opportunity to create unforgettable memories without breaking the bank. Book your stay today!
About DoubleTree by Hilton Resort & Spa Marjan Island: A Paradise Like No Other!
DoubleTree by Hilton Resort & Spa Marjan Island is a breathtaking beachfront resort located on the shores of the Arabian Gulf. With 723 exquisite guest rooms and suites, 14 remarkable restaurants and bars, a full-service spa, a fitness center, a kids club, and a water park, the resort offers an array of amenities and activities to ensure a truly remarkable stay. Nestled amidst private beaches, swimming pools, and gardens, this resort is your gateway to relaxation and indulgence.
Contact and Location
Call: 072030000 or email: reservations_dtmarjan@hilton.com
Summary: DoubleTree by Hilton Resort & Spa Marjan Island introduces an ultra all-inclusive staycation offer that guarantees a fantastic getaway experience. Enjoy a Deluxe Room upgrade, delicious meals, unlimited premium house drinks, room service, late check-out, spa discounts, beach access, swimming pools, water park, kids club, and exciting water sports. The offer is available until June 15, 2023. Book now at the DoubleTree by Hilton Resort & Spa Marjan Island website or call +971 7 203 0000. Experience an unforgettable all-inclusive staycation in Ras Al Khaimah!