The holy month of Ramadan is here, and it coincides with the pleasant spring season in the United Arab Emirates. People are stepping out of their homes to enjoy the outdoors, opting for open-air Iftars, shopping after prayers, and engaging in fitness activities in the cool evenings.
Dubai, known for its extravagant celebrations, has decked up its streets with lights, fireworks, and Ramadan markets, offering a plethora of gastronomical experiences, sports and fitness activities, and cultural events to cherish during this holy month. Let's dive in and explore what Dubai has in store for us.
Festive Lighting and Fireworks
Dubai is sparkling with festive lighting installations and fireworks, adding to the joyous ambiance. Head to Al Seef until April 22 and Al Habai Mosque until April 10 to witness immersive building projections and lanterns lighting the way in the Ramadan in Dubai Reflections. Dubai Frame and Ain Dubai are also lighting up for Ramadan with special projections.
At the Festival Bay in Dubai Festival City Mall, you can witness the IMAGINE Ramadan projection daily throughout the holy month. Moreover, fireworks will light up the skies at The Beach, Bluewaters, and JBR on April 1, Al Seef on April 8, and Dubai Festival City Mall on April 15.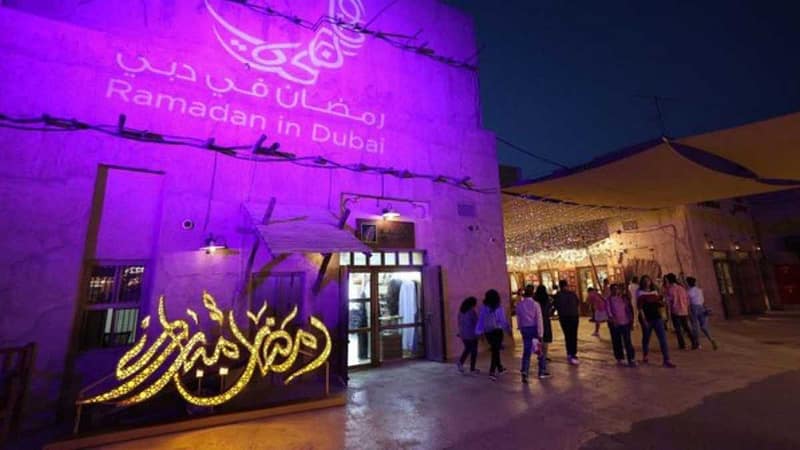 Art Nights and Lights
Al Seef is hosting Art Nights and Lights every night until April 22. It features a street market, art and lighting installations, and a fireworks display on April 8. Don't miss the opportunity to immerse yourself in the creative vibe of this event.
Ramadan Street Food Fest
From March 31 to April 9, head to the Sheikh Hamdan Colony, Al Karama, and take a stroll through Dubai's streets to indulge in authentic and traditional foods during Iftar and Suhoor at the Ramadan Street Food Fest.
Ramadan Markets
Al Rigga Night Market, open every day through April 30 from 4 pm to midnight, is a must-visit outdoor market that features Asian street food and flavors from all over the world.
For a more traditional experience, explore the Ripe Market Academy Park Ramadan Souk from April 1 to 30, featuring oriental goods by local merchants and Middle Eastern treats. Entry is Dh5 for adults, and children below 12 years old, seniors above 60, and people of determination can enter for free.
A Market at the Park
Visit Al Barsha Pond Park from March 30 until May 1 from 4 pm to 12 am for the venue's Ramadan market. You'll find international delicacies to sample, along with seasonal entertainment, contests, and local retail offerings.
Al Marmoom Heritage Festival
Running from April 6 to 18, the Al Marmoom Heritage Festival features daily camel races, live concerts, and international dance shows, offering a glimpse into the rich cultural heritage of the UAE.
Hatta Hub
From March 30 till May 1, the Hatta mountains come alive with retail outlets and entertainment from 4 pm to 12 am daily. Enjoy the stunning scenery while indulging in various activities and experiences.
Holy Month at Global Village
Global Village is hosting Ramadan Wonders, where you can explore a market, a majlis, and choose from a variety of cuisines for Iftar and Suhoor daily. Immerse yourself in the cultural diversity and soak in the joyous ambiance.
Final Thoughts
Dubai has something for everyone during the holy month of Ramadan. From cultural experiences to gastronomical delights, sports and fitness activities to creative events, immerse yourself in the festivities and create memories that last a lifetime.