Palm West Beach is fast becoming one of the coolest stretches of sand in Dubai, as there are restaurants and bars. Now, with the launch of The St. Regis Dubai, The Palm's new beach club, Kyma Beach Dubai, you can enjoy Greek Island vibes on Palm Jumeirah.
Set to open next month, the new beach club is called Kyma and looks set to be a Grecian-inspired paradise when it washes up on the shores of Palm West Beach. While we've not yet seen what the venue will look like, we know the space will be a part-restaurant and part-beach club. So you can expect to enjoy sun-soaked days by the beach and then indulge in long, lazy lunches with your toes in the sand. The homegrown concept will see Rikas' corporate chef Gilles Bosquet take the reigns of the menu, which promises authentic Greek flavors with a wider Mediterranean influence.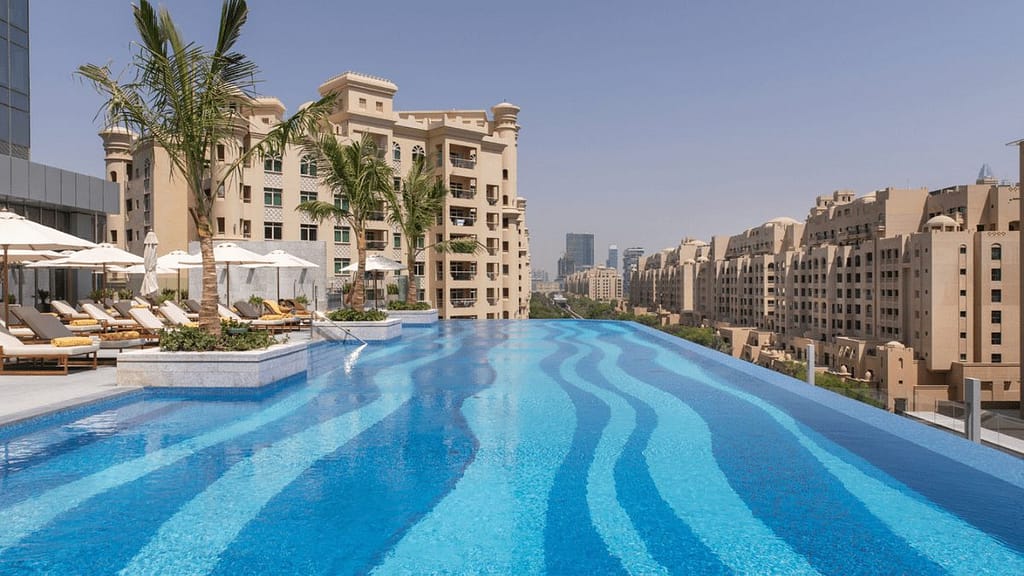 RIKAS Hospitality Group has teamed up with The St. Regis Dubai, The Palm, which opened last year on Palm Jumeirah, to create the new concept. The venue has not yet confirmed if hotel guests will gain access to Kyma Beach Dubai. However, we're expecting great things from the new beach club, as RIKAS is the same group behind some of Dubai's hospitality hits: La Cantine du Faubourg, Mimi Kakushi, Ninive, and Twiggy by La Cantine.
Marwan Fadel, general manager of The St. Regis Dubai, The Palm, said: "We're excited to embark on this partnership with RIKAS Group and introduce the new beach club concept, developed with the utmost level of service and excellent culinary offerings at the helm. With RIKAS' track record of creating many of the city's favorite dining destinations, we are positive Kyma will bring a unique concept that stands to strengthen our hotel's legacy and build on the success of both brands."
Rizwan Kassim, the founder and managing partner at RIKAS Hospitality Group, added: "Known for being behind some of the region's most exceptional culinary projects and new concept launches, we are happy to open Kyma, our latest Mediterranean-inspired Greek Beach Club and Restaurant. Our latest project will be in partnership with The St Regis Dubai, The Palm, one of the most iconic hotels on The Palm. As always, we are excited to introduce specially designed new experiences to our guests!"
We're excited, too.
Location