Suppose you're looking to inject creativity into your relationship. In that case, you'll want to get out of the dinner-and-a-movie rut by incorporating some unique date ideas into your repertoire. While these Dubai date ideas might not make it any easier to decide where to go, they will ensure you have plenty of fun doing it!
1) Go bowling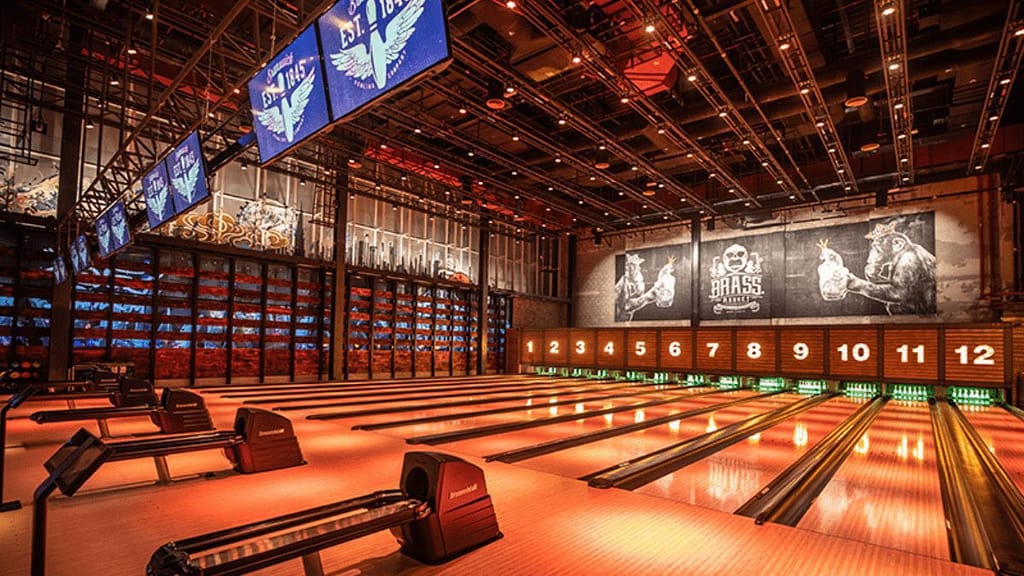 Bowling is a classic group date idea. Why not go bowling and make it feel like a retro experience? You can make it even more memorable by going to an upscale bowling alley with arcade games, bar service, and blacklights for the lanes. The unique setting will set this night apart from all others.
Both of you should be able to pick up the rules pretty quickly and enjoy yourself right away.
If you're feeling bold, try something new at Inscape Entertainment Bowling in Bur Dubai – order some fries or chicken fingers from the in-house food stand and bowl without worrying about making a mess!
2) Watch live performances at Atlantis the Palm
Atlantis is the place to go if you're looking for a memorable night out with your partner. The hotel hosts an array of exciting performances in its state-of-the-art theatre, featuring talent from around the world. From a mesmerising magician to some toe-tapping Flamenco dancing, there's always something going on here. With 50% off tickets on Wednesdays and Thursdays, you've got nothing to lose but each other's company.
3) Head out on an evening walk in JBR
One of the coolest features of JBR is the boardwalk. It has great views, a variety of restaurants and other amenities, and most importantly, it is a great place to take a walk in the evening. Plus, it's free! Walking along the water at night when you are already having an awesome time is always fun, as there are things to explore and enjoy every few steps.
4) Buy tickets for the observation deck at Burj Khalifa
If you want to go on a date with your significant other and don't know what to do, how about going on a date up the world's tallest building? Located in Downtown Dubai, the observation deck of Burj Khalifa will take your breath away. This skyscraper's tallest building offers an unforgettable view of the surrounding landscape. The price for admission includes 45 minutes at 1,200 meters above ground level for both individuals and couples. You'll have a ton of time to explore and snap pictures from atop one of man's greatest engineering achievements. So why not have a romantic getaway with your partner by taking in one of the earth's most beautiful views?
5) Visit the art galleries
Dubai offers a diverse and rich cultural experience for tourists. Art galleries are typically more reserved for locals, but there are two great venues to check out: The Art Loft on Alserkal Avenue and the Tashkeel Arts Hub at Jumeirah Bay Xchange. Located only meters from each other, both have fantastic pieces showcasing various forms of art, including sculptures, paintings, photographs and more. Visitors can explore the exhibits on their own or participate in a themed tour offered by a gallery representative who will give you background information on specific artists or artwork on display. You can also stop by the introductory workshops to learn how to draw your favourite painter!
6) Go Glamping
If you're looking for a date night idea, why not spice things up with a luxury experience at a glamping resort? Glamping offers couples the chance to get closer, really close. With sleeping bags right by one another and a nice little campfire between you, it's bound to set the mood. There's nothing like curling up in the outdoors under the stars after spending your time admiring the beauty of mother nature together. All this and much more without worrying about any unwanted distractions.
7) Take a hot air balloon ride
Get your adrenaline rushing by taking a hot air balloon ride! Float over the desert and explore the magnificent sights from an aerial perspective. It will be hard to stop snapping photos of every new sight you see. Pro Tip: don't forget to bring a camera.
8) Go on a Desert Safari
Dunes and desert seem like something from a postcard—a dusty, beautiful expanse of sand and rocks. They are a quintessential part of the Arabian Desert—certainly the most iconic. There's nothing like sitting in your car as dusk sets in, taking in the sunset over rolling hills of sand or enjoying your lunch together at an oasis before re-boarding for more exhilarating activities on your jeep! And if you want to impress your friends or family with some spectacular dates while they're in town, then a desert safari is the way to go.
9) Fitness Date
Take your workout outside! There are a ton of different exercises you can do outdoors and use the natural setting as your backdrop. Below are some recommendations for outdoor exercises. Making Lunges in the park is great for your legs, butt, and quads. Bring a band to stretch at the end of each set if desired. Pack your gym bag and lace up those shoes.
If you have access to stairs, start with 20 squats at the bottom and work your way up to 50 by climbing every other step until you reach the top or run out of time. End with 20 push-ups on your last set, so work through all levels of fitness challenges while having fun on an adventure date!
10) A Spa Date
A spa is a perfect option for those who want to take things to a more relaxing level. We recommend making reservations in advance, and you can check out any of these great spots below:
1. Vivanta by Taj – The Palm Jumeirah
2. The Al Diwan Spa at the Burj Al Arab
3. Amarya At Jumeirah Emirates Towers
4. Ras Al Khaimah Beaches Resort & Spa
5. Jumeirah Mina Seyahi Beach Hotel
6. Fairmont The Palm
7. Luluca Hotel
8. Loews Regency Dubai
9. Hatta Fort
10. Kempinski Mall Of Emirates
11) A Day at the Races Date
Dubai is known for its race track. Whether you take an afternoon out of your day and watch the races or get in on the action with some betting, a day at the racetrack could be a great way to spend an evening with someone special. Betting on horses would be a great way to make it personal, even more than just going there to enjoy watching other people race. That feeling of winning when you bet on a horse will give you bragging rights for months!
12) Scuba Diving
A scuba diving trip is ideal for getting out of the city and seeing some amazing underwater sights. You can book an excursion with a company like Dive Dubai or Coral Reefs, which will take you to the best dive sites in Dubai. The cost of this activity varies depending on how many people are going and what time of year it is. Divers can enjoy swimming with sharks, turtles, manta rays, and other sea life. There's also plenty of opportunity for snorkelling if you want to get up close and personal with these creatures.
13) Go hiking
If you want a change from shopping and dining, why not spend some time outdoors? Plenty of hiking trails around Dubai allow you to explore the desert landscape without getting too hot or sweaty. Choose between short walks along secluded paths or longer hikes that take you through nature reserves filled with wild animals such as gazelles and lizards.
14) Escape Room: Solve mysteries on your date
Do you want to escape from a room? Start with a night at Escape Games, one of the UAE's largest gaming rooms. Located in the Mall of the Emirates, the facility boasts 7 rooms featuring themes from horror to thriller, crime, and puzzle solving. With each game lasting an hour, it's one of the most intense ways to spend an evening with your special someone – especially when you have to work together. Be sure to book in advance as they fill up quickly.
15) Visit an Aquarium
A wonderful thing to do is visit an aquarium. Whether you want to see exotic fish or just see a whale in person, this is a great way to do it. There are several places for you to go, but one of the best and most well-known is called the National Aquarium. They have plenty of different types of animals as well as high-quality infrastructure, so your experience will be immersive and educational.
Final Thoughts
Shakespeare said let us all hold hands and jump into the sea, and I agree. Spending a night out with someone you care about can be difficult at first, but what better way to get to know someone than being outside of your comfort zone?
Regarding getting creative, these are just 15 suggestions to help get the juices flowing. Try them all out, or use them as inspiration to come up with your own!